The Foundation's mission is to improve the lives and wellbeing of ordinary people throughout Greater Lincolnshire. We seek to achieve our mission through building long-term endowment, grant making, social investment, advice and practical support: we listen, convene, collaborate, co-create, and fund.
We pride ourselves in being accessible to representatives from those groups interested in applying for a grant.  We would encourage potential applicants to get in touch with us before applying so we can assist and advise on the best course of action, as we may be able to signpost to other potential funders and opportunities too.
Our process is straight forward, but we are always willing to learn from those organisations we serve and welcome all feedback whether or not you are successful in securing funding from us.
Supporting community groups local to Bicker Wind Farm to improve the local environment with projects and activities that promote renewable energy and educational projects contributing to conservation.
"Sometimes a little help is better than a lot of sympathy" This funding has been released from funds raised as part of the Ukraine Refugee Appeal to give those arriving into the County a Big Lincolnshire Welcome.
This is a really good opportunity for those voluntary and community groups across Greater Lincolnshire addressing the root causes of social injustice to apply for funding to help them tackle issues such as poverty, loneliness and isolation and homelessness. I'm available to have a chat to help steer applicants through the process
A partnership made up of local residents responsible for investing £1M over a 10+ year timescale to improve the lives of people living in Mablethorpe, Trusthorpe & Sutton on Sea. They have supported initiatives such as advice and support via the CAB, improvement and sustainability of community buildings, physical improvements, activities and events for residents and local business support.
The object of the Fund is to improve the wellbeing of people living in Greater Lincolnshire and to make life more comfortable, ease distress and isolation for those most in need.  
We thank East Lindsey District Council, The Horncastle Lions and the Horncastle & District Health and Wellbeing Fund for providing this funding so we can distribute small grants to those individuals (in East Lindsey) who were flooded following Storm Babet on 19th and 20th October.
Supporting the community groups in and around Tydd St Mary to help enhance local activities for both young people and older residents, and helping local community facilities to thrive within the area.
Set up as a legacy of the War Memorial Cottage Hospital in Horncastle, to support both individuals who are need support with their health, and community groups who promote the health & wellbeing of those throughout East Lindsey.
The Foundation has been invited to work with the South & East Lincolnshire Council Partnership to support people who haven't been entitled to Government's cost of living payments. We understand what a difficult time this is for many and will do what we can to help.
The Foundation has been invited to work with South Kesteven District Council to support people who haven't been entitled to Government's cost of living payments. We understand what a difficult time this is for many and will do what we can to help. bout this grant – who it's for, who it can help and more"
The Foundation has been invited to work with West Lindsey District Council to support people who haven't been entitled to Government's cost of living payments. We understand what a difficult time this is for many and will do what we can to help.
We are delighted RWE have invited us to work alongside them, supporting grassroots organisations to carry on the fantastic work they do in North East Lincolnshire
Helping bring the community together, support local residents with their wellbeing and developing local community facilities and larger capital projects in and around the Laceby area.
Small grants made to individuals to help them get back to work, into training or education, where funding from a statutory organisation is unobtainable. Applicants should be 16 years or over and currently working no more than 16 hours per week. Specific training that will lead directly to available employment or support to become self employed will be considered.
This is a fantastic opportunity to help young people from across Greater Lincolnshire, aged between 18-30, to set up or extend their business ideas
Funding derived from donations made by members of one family who want to improve the lives of people living in or near to Gainsborough. The trust helps organisations relating to education, community engagement and young people. Since the Trust was established LCF has distributed over £100K.
Set up to improve the lives of those who live in areas surrounding the land fall locations of the off shore wind farm in both Bicker & Anderby by helping improve meeting places and support community groups to promote community spirit and activity.
This scheme provides a fantastic opportunity for organisations to delilver projects that bring people together whether by improving built infrastructure, delivering opportunities for people to take part in new activities, get involved in volunteering, support digital connectivity or long term sustainability & resilience of community organisation across these District Authorities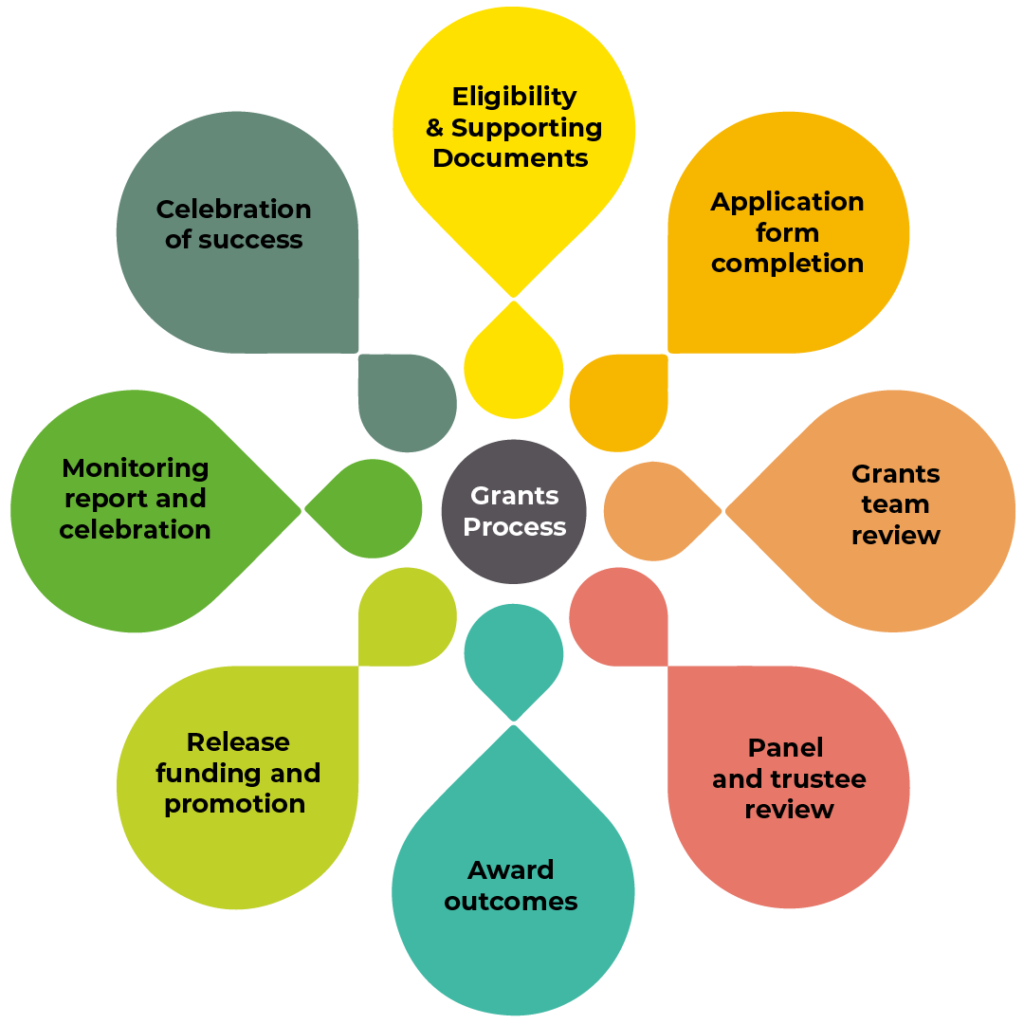 Read the Grant Guidelines to ensure you're eligible to apply and have all Governance documents in place.
01
Complete the application form and send with all supporting documents to the relevant Grants Manager.
02
Your application will be reviewed and prepared for panel by the Grants Team. You may be asked for further information and documentation to support your application.
03
Your application will be reviewed by an independent Panel. The Trustees then review and consider the panel's recommendations.
04
Applicants are notified of a decision. Successful applicants will be sent End of grant monitoring form & comms pack.
05
Funding is released. Grant recipients should promote their award using supplied branding in the comms pack via all forms of media platforms.
06
Recipient completes an End of Grant Monitoring Report once funding is spent to demonstrate the difference it has made to the lives of beneficiaries and the wider community.
07
Celebrate the impact of the award on your group, and wider community across all forms of social and local media.
08
Can't find funding which meets your criteria? Please click below to view our Grants Matrix. Please note the information content and materials available on this matrix are for general informational purposes only. Information on this matrix may not constitute the most up-to-date information. The matrix provides links to other third-party websites. Such links are only for the convenience of the reader, user or browser.
Struggling to download an application?
All of our application forms, guidance and guideline documents for our funds are downloadable from this site. Please note that we use Dropbox to store our documentation but you are not obliged to sign up for an account in order to access these files. You may need to familiarise yourself with your device to find out where your downloads are stored. To assist you with this please click below.